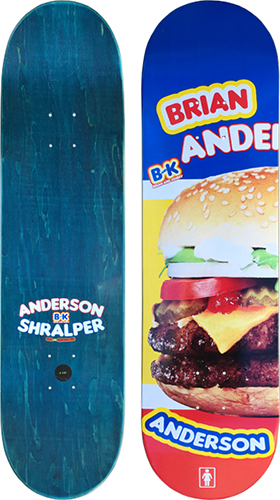 Brand: Girl
Size: 8.5″ x 32″
Year: 2011
Artist: Hershel Baltrotsky
The deck is part of the two piece BK Schralper series,
shared with Kenny Anderson
, that came out in 2011. Though it's made by Girl, it appears on the Chocolate One Offs #2 release. Not surprising as both companies were created by the same people, Rick Howard, Mike Caroll, Megan Baltimore and Spike Jonze. The first one was founded in 1993 and the second one in 1994, because the Girl team was too big at that time. The deck shows a picture of half a hambuger, with the mention "B and K, Brian and Kenny". We can easily find the reference with the famous fast food chain here, having the same initials. Hershel Baltrotsky, the artist who made the graphics for this series, was the art director of Girl Skateboards from 2008 to 2014.