Interview with Jake Wooten, pro skater for Santa Cruz
Jake Wooten turned pro for Santa Cruz earlier this year and we had the opportunity to meet the man from Gallatin, Tennessee, during the Red Bull Paris Conquest. The contest was held in Paris at the Eiffel Tower on August 17 and 18 where world's street elites went head-to-head on a unique skatepark around the most iconic Parisian spots, such as the Bercy blocks, the Luxembourg curb or the Saint-Germain-des-Prés fountain. We talked with him about the course and his recent pro status.
How did you find the Red Bull Paris Conquest course?
It's so unique, I've never had a course set up like this because it is legendary pair of spots. It's really amazing how they recreated in such a small area so much history of Paris skateboarding, the course is a lot of fun.
Did you skate some of these spots at the real location before?
I've only skated one of the spots in real life and it was the wall [the melting house at Gare du Nord]. It's pretty accurate, of course this is a little bit easier because it's a skate park, it's built for skateboarding, but it's just really cool how they're able to integrate everything and still keep it all kind of separate but together.
Jake Wooten riding the Red Bull Paris Conquest
Was the wall your favorite obstacle of the course?
I would say the quarter pipe was definitely the coolest because I look at it and I look to ride up, I see the Eiffel tower behind it so it's just such a cool thing. The five blocks [of Bercy] are really cool but it's enormous, it's apparently almost as big as the real one so that's why it's so big. You didn't see me jump off the top but I had some fun off the bottom ones.
Did you skate in Paris during your time here?
I didn't, I came to Paris once before about two years ago for Vans Park Series, and I skated a little bit street. But this time I was only here for a couple days and then I moved to Estonia.
Jake Wooten's first and second pro model
So you turned pro for Santa Cruz earlier this year, how does it feel to have your name on a board?
It's something I've been dreaming of since I was a kid. I've been looking forward to seeing how far I could take my skating, and I'm blessed to have had so many amazing people along the way help me, sponsors take me on trips, drive me to a skate park like parents do, or anything, even if they gave me a set of wheels or even if they gripped my board at the skate shop you know what I'm saying. It's been such a journey the whole way and it was the dream to make it, to be pro, and for one of my favorite companies. I turned pro and all my friends were there, the whole team was there, my parents, so it was very special.
How was your pro announcement? Were you scared when you came back at your house? [The Santa Cruz team went inside Jake's house while he was outside to surprise him with his pro deck]
I was very scared because I always lock my doors, I always pay attention to my house and stuff, I'm very peculiar. So when I go to my door and I'm gonna open it, I see something on the couch, like a full body under a blanket, then I saw him, I didn't realize he was holding my board and I saw everyone run out and I saw them all holding the boards. I just started tearing up and just screaming, I was just so excited, a moment I'll never forget.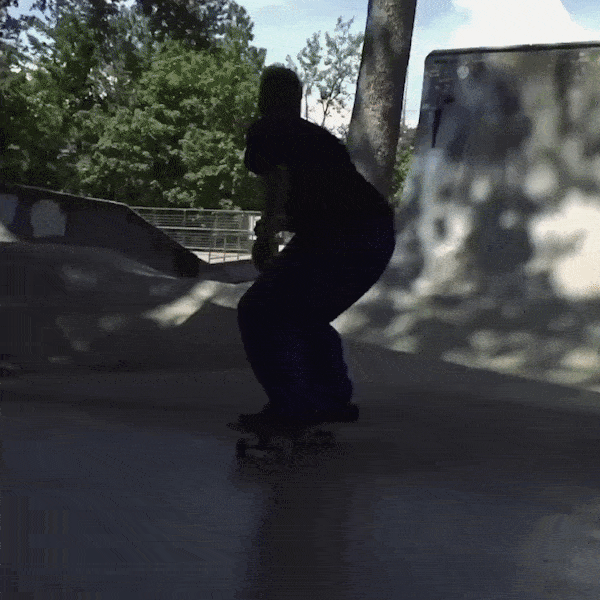 How do you like your first graphic?
It was drawn by Thomas Fernandez and he just did an amazing job encompassing ideas that I had, because I had given him a bunch of different things, just some ideas of graphics that maybe one day would be cool. Then I talked to the art director about it, Tyler [Emanuel], and he passed those words down to Thomas Fernandez. He did an outstanding job making the Crest, really showing off the angle of duality I wanted, it has the matte colors that I really like because I like very basic black and white colors. I couldn't have been happier for my first graphic.
Wish you the best for your skateboarding career!
Thank you so much man, I wish you the best with what you're doing, every day is a good day to skateboards [laughs].