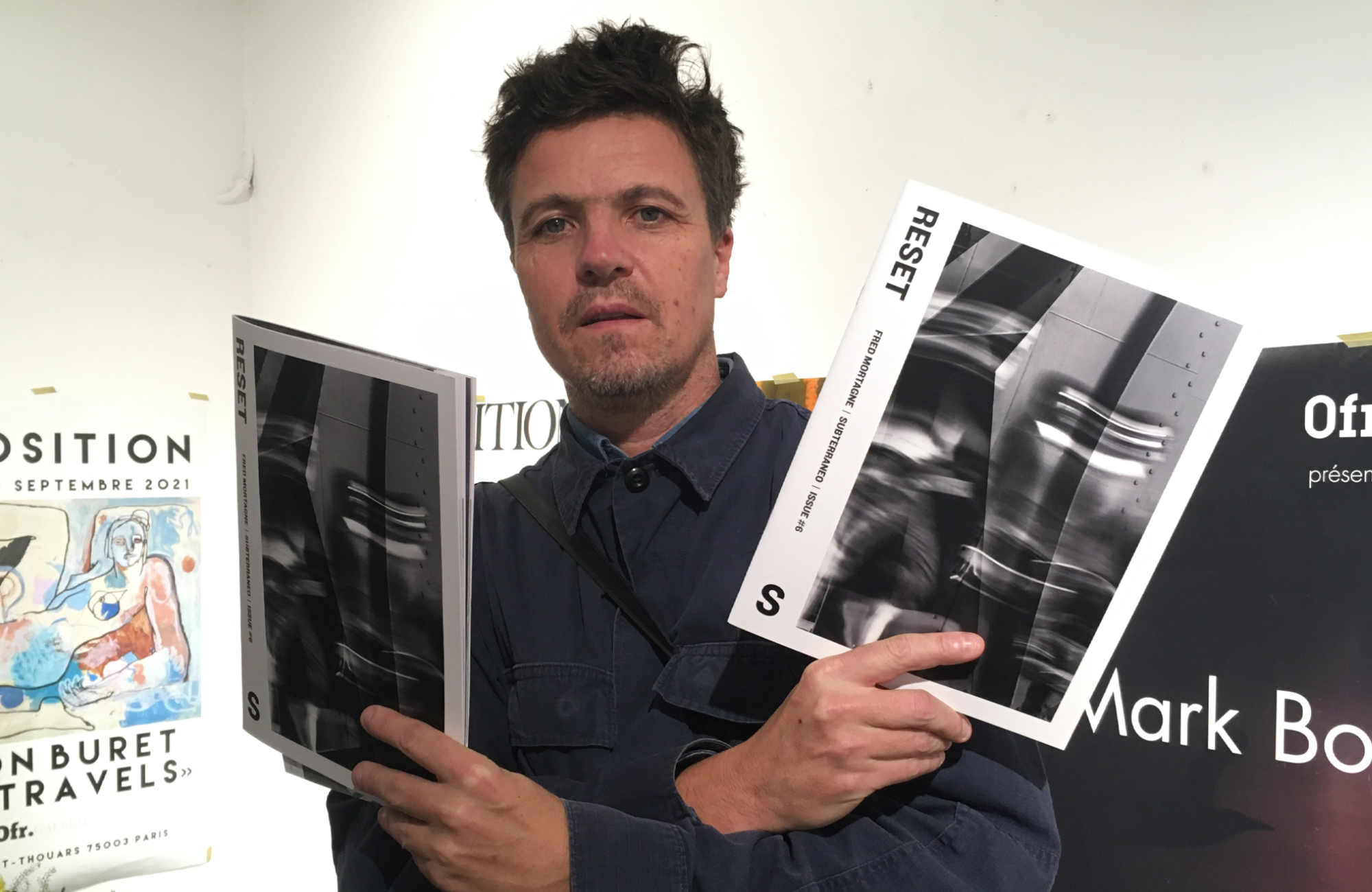 [ENGLISH VERSION] Interview with Fred "French Fred" Mortagne, cinematographer and photographer
Fred Mortagne is one of the most recognized cinematographer in skateboarding thanks to the films he made in the early 2000s, such as Menikmati, Sorry or Bon Appétit. But the one who's also known as French Fred has been working on black and white photography for several years. It was during the launch party of the special issue of Subterraneo Mag, showing his urban photography, that we met the artist from Lyon, France. We talked about Menikmati, the role of filmmaker in skateboarding and the transition from video to photo.
L'interview originale en Français est à retrouver ici.
When you produced Menikmati for éS in 2000, did you think this video would become so legendary? That we would talk about it twenty years later?
Of course not, I think it's great that we still talk about twenty years later. I could never have anticipated that, especially since skateboarding is still very much marked by eras, by trends… I was sure that in video, the projects would not really last in time and that's why I started taking photos, that I made timeless photos, black and white stuff, not marked by an era. I had this desire to create things that would not go out of fashion and I thought that videos would go out of fashion completely, so it's nice to see that they have marked their time and that they have marked the minds.
Almost all the music in Menikmati is instrumental, do you think that's one of the ingredients that made this video work so well?
In my whole career, I have always put instrumental songs first and foremost. It can take up a lot of space when there are lyrics. I use music as an atmosphere, I try to create a symbiosis between the editing and the images. Though you can't just take any music for a skater. There is a rhythm that fits or doesn't fit and often skaters want to use their favorite songs, but in fact it's never the case because it doesn't work!
Jeremie Daclin in a parking lot in Tokyo. Photo by Fred Mortagne.
It's funny that you do black and white photography because I remember that skateboard videos imported from the US, we saw them in black and white and not in color in Europe because of the pal/secam format, it's a nice wink.
Sometimes when I wonder where the black and white came from, it's because all the tapes I copied to secam format were in black and white. I saw a lot of black and white skateboarding videos and I didn't realize how much it affected my photo production.
With skateboarding in the Olympics, we saw coaches for the skaters, but in the end, isn't it the filmmaker who is the coach?
Very early on, brands often asked me: "Can you be a team manager at the same time?", I answered: "No, there's no way!", I always declined, it's two different jobs and it's too intense. But it's true that the filmer and the team manager are the ones who have to be with the skaters all the time. The filmer really plays a motivating role for the skateboarders, if you're just there to film without interaction, it's dead! Sometimes, it's even thanks to the filmers that the tricks were done, at a certain moment you felt that the skater was close to doing it and there he needed the little extra motivation, and that's really an important role of the filmers.
Eric Koston's part in Menikmati, produced by Fred Mortagne.
With social media and short skate clips, do you feel nostalgic for long-form skate videos?
It's different times. I didn't really want to work on long projects anymore, we used to spend sixteen months, two years on a project. There was a lot of time wasted, shooting stuff that you're not going to use, so I preferred to work on short projects not to inhibit my creativity, not to limit myself in an energy. Then of course with a long project, you don't show the same thing, you can go more in depth on things. But yeah, maybe that will come back too.
Are you interested in skateboard graphics?
Not so much! Not so much because I'm not into the visual stuff of board graphics. I'm going to be more sensitive if it's photos, black and white photos, it catches my eye. I like things a little simple, minimalist, so when it's illustrations, especially cartoonish ones, with a lot of colored drawings, I'm less of a fan, it speaks to me less. And since I'm looking for a rather pure aesthetic in my work, when a guy has a board with a lot of stickers on it, I'm like: "damn" [laughs].
Brandon Westgate skating a pipeline in Californie. Photo by Fred Mortagne.
If you had to choose between photo or video, what would you keep?
I try to be only in photography, but the more I try to get away from video, the more I'm asked to do it [laughs]. I'll always do both, it's complementary. But I'm not really into editing as much as before because it's super long.
Also because you can easily and quickly show emotions, show your work with a photo rather than a video.
Yeah! But I would miss making skateboard videos though. Working with music, I love it, sometimes it's really the number one motivation. You have a song and you have to know how I shape it, how I edit it, how I find the rhythm, I love doing that!
What are your plans for 2022?
2021 is not finished yet! I still have to edit a video for Antiz, I already did one this year so I have another one to finish. I'm also doing a commercial for Quiksilver with Javier Mendizabal, who I've worked with a lot and who I love, so that's cool.